Need a quick tan for an upcoming ECU event? With its immediate setting qualities and long-lasting stay power, it's no wonder that people in Greenville and Eastern North Carolina are moving toward sunless tanning for the safe and natural-looking tan of their dreams!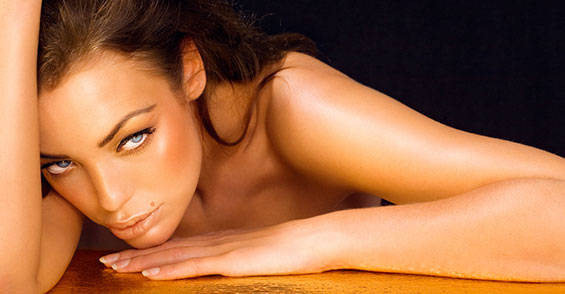 At Tan N Bed, our Evans Street location offer a variety of sunless tanning services and products. Our hottest sunless option is our Mystic HD (High Definition) Tanning which delivers flawless results while keeping you warm and dry from start to finish.
What is Mystic Tanning?
The Mystic Tan™ booth is private, self-contained unit that uses MagneTan™ technology to apply a uniform amount of tanning solution to your entire body in seconds. Our Greenville, NC Mystic HD sunless spray tan booth adds heat to your tanning experience with a full-body drying feature.
From the moment you enter the warm, inviting environment, your skin is infused with heat, which allows for maximum absorption, creating a deeper, longer lasting, high-definition color. A sweeping side-to-side airbrush travels gently from head to toe, applying precise amounts of your desired level of color, while a flow of warm air ensures that your skin remains dry and you remain comfortable.
How do you prepare for getting a Mystic Tan?
Whether you're a first-timer or a Greenville Mystic Tan veteran, there are certain steps you should follow to ensure the best possible results.
The night prior to your sunless tanning session, use a non-oil based exfoliant to properly even out the skin's surface.
Shaving closes your pores and makes sunless tanner absorption more difficult. Therefore, you should shave the night before rather than the day of a tanning session.
On the day of your sunless tanning session, shower prior to use…but don't apply lotion. Clean, freshly washed skin is essential for a good tan.
Wait 4 hours after your sunless tanning session before showering or participating in any water activities.
To prolong and protect your color, add a gradual sunless tanning moisturizer to your daily skin care regimen.
Why should Greenville go sunless?
There are many benefits of sunless tanning. It also decreases the appearance of cellulite and blemishes and increases self-esteem and self-confidence.
Want to get a healthy, natural-looking tan? Contact us to schedule an appointment for our Greenville, NC Mystic Tan!
Book our "diamond" membership today and reserve rights to our indoor tanning beds AND Mystic HD booths for a low monthly rate!
We also offer "silver," "gold" and "platinum" options. For a comprehensive breakdown of our Greenville tanning membership programs and rates, please visit our "tanning" page.